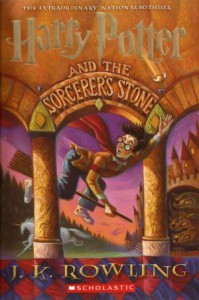 Note: this review is for the whole series.
So, this book is so famous that probably everyone has heard of it and either read the book, seen the movie, or both. But I have to write a review. This is the best book I have ever read. I LOVED the whole series.
FOUR REASONS WHY YOU SHOULD READ HARRY POTTER:
1. Characters. Harry is the best protagonist ever! He is endearing and sweet and throughout the series he grows up and his character becomes more complex as the series progresses. Ron and Hermione were awesome too, I loved the friendship between all of them and the tremendous amount of development in their characters. In fact, all of the characters, whether major or minor in the story, had personalities and felt like real people.
2. World-building. J.K Rowling created a fantastical world of magic and it was amazing. Magical creatures, the Ministry of Magic, the spells, Hogwarts, magical objects- all of it was so well-thought out and written. Best fantasy world ever!! (Only thing was, I was slightly confused by how clueless some wizards were about the "Muggle" or non-wizard world. But in the end it didn't really matter).
3. Themes. There are such strong themes of family, friendship, love, good vs. evil, power. I liked it. The books taught some very good lessons.
4. Writing. J.K Rowling is a brilliant and insanely talented writer. She created characters that are lovable, relatable and endearing, she came up with an amazingly fantastical world for the story, she came up with new and interesting plots for all seven books so I never felt like I was reading the same thing over and over again. And the way she writes! There are some heart-wrenching moments (especially in Order of the Phoenix, Half-Blood Prince and Deathly Hallows) and there are some light-hearted and joyful moments. It is perfectly balanced out and I loved every page of all seven books.
As an added bonus, the movies stay true to the books and I felt they were well-done. I Enjoyed the movies almost as much as the books (especially the Prisoner of Azkaban movie).
In short, I absolutely adored all seven Harry Potter novels. And I absolutely recommend them!